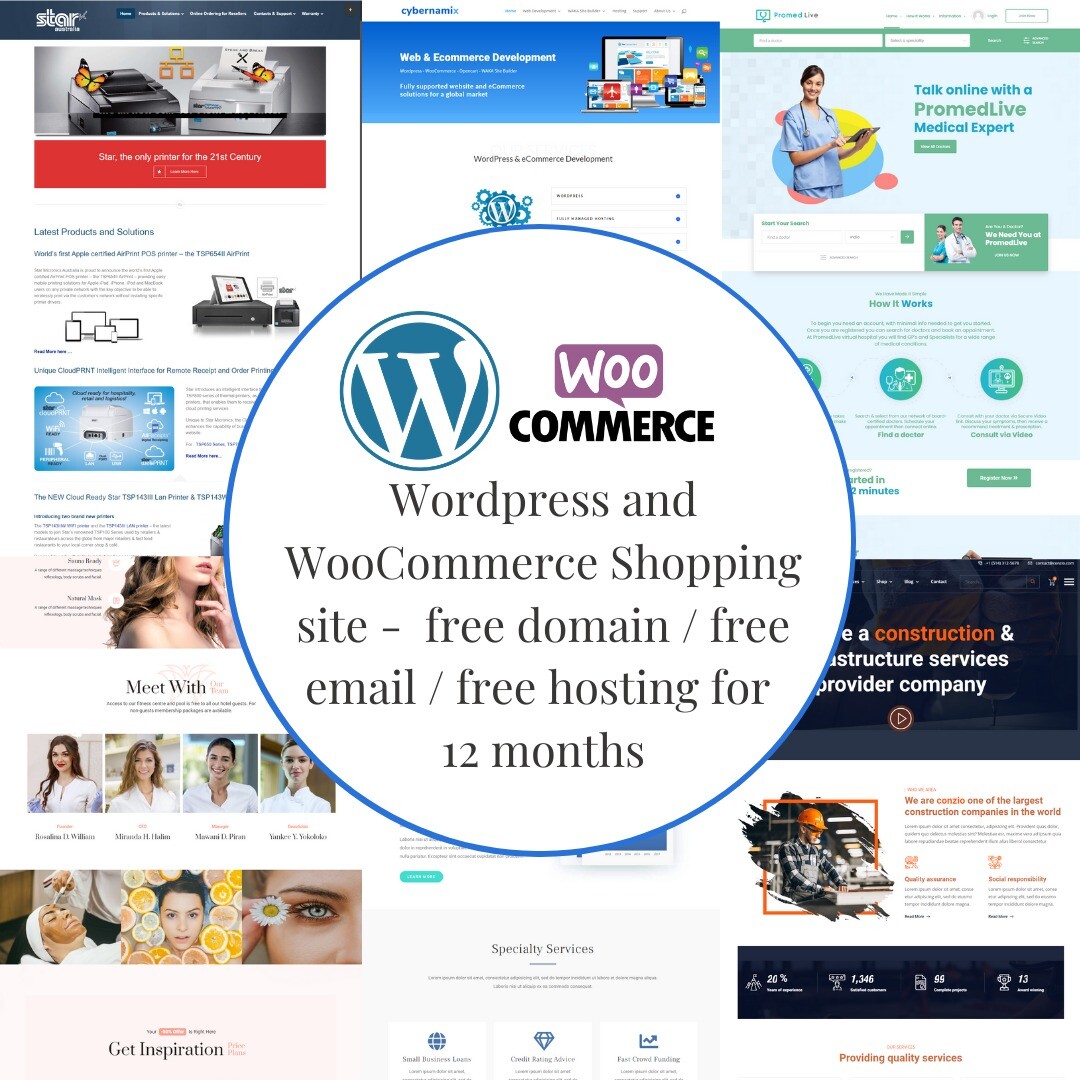 Price: 72232 USD
Designer built WOOCommerce Shopping website – Mobile Friendly
WHATS INCLUDED


Free .com/.au Domain name, Free Emails, Free SSL, Free Hosting for 12 months!
Your WOOCommerce shopping website will be built using the famous DIVI theme for WooCommerce (a $100+ value thats included FREE) . We include Social Sharing options PLUS extension to connect to your favourite Email marketing platform.
Building your website with WordPress + Divi WOOCommerce Theme provides you with the scope to grow your shopping website as your business grows.
WOOCommerce websites can handle thousands of products – you can manage your own site adding pages, products, and editing information, no need to pay us for ongoing product uploads
The following pages are included in your new WordPress website – 
Home page, 
Unlimited Products pages, 
Services page, 
Shop Pages,
Checkout page,
Shopping Cart page,
Registration / Login page,
My Account page,
Password recovery page,
Latest News page,
About Us page, 
Contact Us page,
Privacy page,
website terms page 
WordPress sites built with DIVI theme are super fast, and super aligned for Search Engines! 
Out of the Box our WordPress + Divi Theme websites are really fast. And as we are hosting in Sydney, all your Australian customers get fast access to your website.
Price Includes 12 months FREE hosting in Australia ( VALUE of A$105!) – your site is hosted locally on shared servers in Sydney Australia, not in some remote country.
Includes 12 months domain registration of .com.au OR .com/.net domain name.
Includes free email address.
The completed website is a fully supported site – included in hosting is monitoring of your site for hackers and malware.
Highlights

Free domain name for 12 months (Value $25);
DIVI Theme for WooCommerce Included (Value $100+);
Free email account;
Free hosting for 12 months on Australian servers in Sydney (Value $250);
Free SSL security certificate;
Social Sharing Options;
Email marketing Extension;
Managed for hacking and Malware prevention;
PLUS: You get Search engine submission, online assistance setting up your email account, anti-malware/anti-hacking support & monitoring built into the hosting service….(Value for Great Customer support….Priceless!)
No matter what your business we can build a modern, fast, search optimised website and have it hosted and managed for you at a price that is not going to break the bank.
Industries we have built websites in include the following:
Financial Services;
Education Services;
Wholesalers/Distribution;
Online Retail stores;
Manufacturers;
Hair Salons;
Construction industry;
Health Sector – Yoga, Pilates, Massage therapy;
Consultancy Businesses;
Directory businesses;
Agriculture Sector;
Medical Services;
Automotive Sector;
Stock Broking companies;
Importers/Exporters;
Government/Local Gov.
In fact, pretty much no matter what your business is, we can build a shopping site for you….we can even help you connect your shopping site back to EBAY and increase your sales!
Additional Information:
Your purchase does not include additional labor time for logo design work or other tasks such as writing custom content; 
Consultation between buyer and seller in order to complete the website is done via Email/Whatsapp/Skype, Google Meet – whichever is your preferred medium of contact. 
Up to 4 revisions are allowed for each individual web page during the build process and is included in the price.
website build will begin within 4 working days of purchase. Time frame to completion depends on the speed of communication for revisions.
About our team
DeoDesignAustralia is the Ebay seller managed and operated by Cybernamix Pty Limited. We integrate our sales with the amazing Ebay marketplace, selling goods we import, and recently offering our web design and hosting services that we have been doing super successfully for more than 17 years in Australia and around the world. 
Our customers generally love us and if they don't love us then they definitely appreciate us 🙂 . See our testimonials below….so grateful for generous clients.
We have been building websites in Australia, NZ, Hong Kong, Indonesia, India, UK, Middle East, Canada and US…since 2003. Our customers stay with us long term as we look after them. 
We build sites mostly using WordPress with Divi theme, HTML BootStrap websites, WooCommerce Shopping sites, and Opencart shopping sites. 
We have also built custom web development applications in Education, Finance, Product Service management, Warranty management, & Medical Services. One of our core skills is helping to assess the business requirements in a project and then manage it through all the cycles to completion.
We also provide business consultation to help your site perform well and make sure your content is aligned with the recommendations of Google and other search engines.
Our team comprises –  web designers, web developers, network admins who look after the site once its live, search engine specialists, and web security specialists 
who prevent hackers and exploitation, and IT Help Desk Support specialists who help resolve day to day support issues.

What our customers say
"AMAZEBALLS! These guys know their stuff and we have been working with the Cybernamix team for 20 plus years. The after service is second to none! Updates have been done when required and support for our internal team with regular ?how-to? questions have been managed with patience and diligence."

B. Haines – Online Retailer, HK.

"Cybernamix has been our goto resource for websites, eCommerce sites, and custom web applications since 2003. As a leader in our field, we expect and receive leadership in our web thinking. We get that in spades from what has developed into our outsourced web team. Support has been excellent any day of the week that we need it; they are quick to respond and stay on task until completed."

L. Howe – Distribution/Wholesale Online Seller, Australia.

"After more than 7 years of working together the support and service we receive from the entire team at Cybernamix is still fantastic. Updates to our site are made promptly and with a minimum of fuss, many thanks!"
B. Mitchell – Manufacturer, Australia.

"The people at Cybernamix were great in helping our team launch our eCommerce site. Development process was straight forwards, migration and hosting a breeze. Monitoring and ongoing support has been excellent and whenever we have requested help, they have responded super quick. I feel confident that I can manage my business without worrying about my site. Thank you guys!"
Hannah M. – Jewellery Retailer, UK

"The team at Cybernamix performed very well helping us to create a web strategy for our telemedicine project here in India during a very difficult time in our country. We tasked their team to work beside our team to brainstorm the project, provide guidance and marketing strategies, and for their developers to work side by side with our own. At all times their team worked with ours diligently to deliver the final result. Great effort !"

Klair, T. – Medical Services, India

"Somerset Smith Partners have for many years engaged the helpful support of Cybernamix in developing and maintaining a website for their Investment Advisory Business. Cybernamix has always provided timely and quick responses for any development and site change requests. Our firm and our advisors are grateful for their help in providing a window to the world that is both presentable and safe."
A. Sabiston – Financial Services, NZ
Need to chat first?
Send us a message on Ebay with any questions or concerns. We are here to help you get your shopping site online – quickly and smoothly, without too much fuss. Give us a shout!