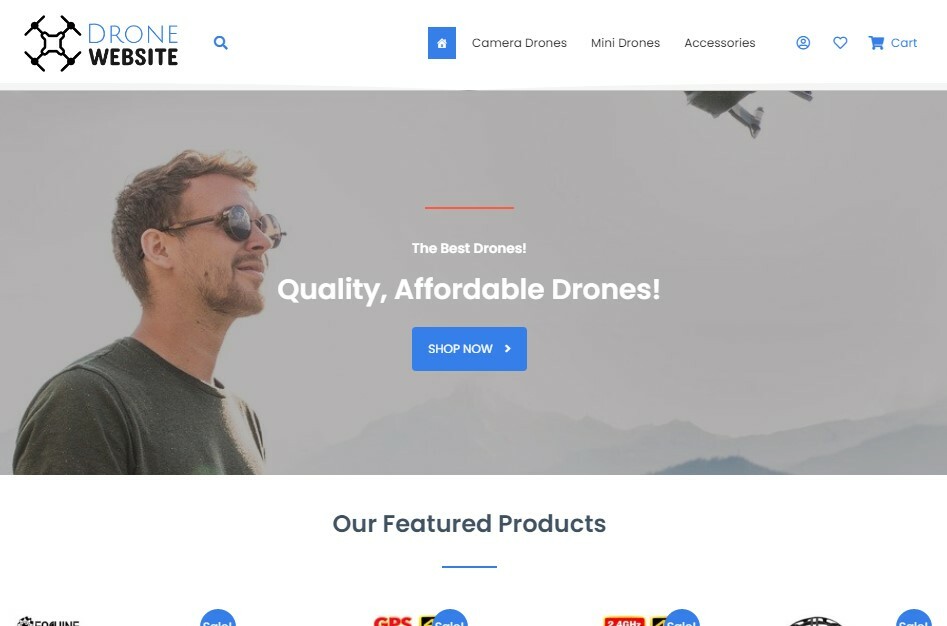 Price: 3282 USD
Drone Dropshipping Store – Full Setup, Domain and 1st Month Hosting Included!
Premium Services – Premium Support – UK Based
Drone Dropshipping Store
Start your own drone dropshipping store, you don't have to hold any stock, we setup the website, you get sales, pass the order on and keep all of the profit. 
Full Setup, Domain and First Month Hosting Included!
Live Demo
dronewebsite.smughost.co.uk (copy and paste into browser)
JUST £25 SETUP FEE THEN JUST £3.99 A MONTH
———————————————————————————-
About the website
Here we have a drone store website for sale, this is setup as a dropshipping website currently but you can use it to sell your own products if you prefer. The products are currently setup to dropship from Aliexpress which is the most popular dropshipping supplier.
The website will come fully setup to your own brand and setup on the domain name of your choice.
Dropshipping is Simple
You get a sale -> Pass the order onto the supplier -> They fulfil the order -> You keep the profit.
We have also partnered up with ezusy so you can easily add products to your store directly from Aliexpress, you get 150 products to start and you can choose to upgrade with them to allow more products and features such as allowing them to handle the order process and auto price and stock updates.
Online Payments
Accept online payments or cash, payment gateways include Paypal or Stripe which are secure and convenient for business.
Security & SSL
You and your customers are completely safe with state of the art security and ssl certificates. We take care of everything!
Powerful Panel
You will have a powerful control panel to view & manage orders, view & manage your customers and view powerful analytics.
Ready to Go website
The website you get will be ready to go, you can start adding products easily and start marketing the website and get sales right away.
SEO
Your website will have a SEO plugin to make it easy for you to start making your website SEO Friendly and will already be SEO friendly with certain settings.
Client Area
Your customers will have their own account area where they will be able to manage their details and previous orders.
Premium Support
We are always here to help, you can also choose upgrades such as allowing us to carry out updates on the website for you. This is completely optional.
Domain Name
If you don't already have a domain name (yourbusiness.com) we will get that registered for you, all included in the setup price.
Full Setup Included
We take care of the full setup, adding your branding modifying the content for your business and matching your menu & prices.
Make Money
You keep all of the profit made on every sale, you also control the prices and can choose your own pricing rules. Dropshipping has been proven time and time to work.
Email Notifications
Stay notified with email notifications of new orders and make things convenient for customers with receipts straight to their emails.
Powerful Hosting
We take care of the hosting, we are website hosts first so we have super fast server and we will look after the hosting account.
Professional Emails
Your package will also come with unlimited professonal email accounts so your new business can be professional from the start. We even set one up for you to start with.
Contact Area
The website has a contact area which allows your customers to contact you, it can have your phone, email, address or simply a contact form.
Cancel Anytime
You aren't tied to any long-term contracts with us. You can easily cancel your website with us at anytime. No questions asked.
How It Works?
It's simple, once you place your order on ebay we will be in touch through ebay and send you a setup link where you can setup your account with us and provide some extra information, we also ask for £0.01 to start your package, this is simply an anti-fraud measure and this can be refunded if requested. Once you choose a domain name we will register it for you and get started.
How Much Does It Cost?
The truth is you are getting a fantastic deal, it costs £25 directly paid through eBay and this includes the full setup, first year for the domain name, the first month of hosting, it's then just £4.99 a month and this is for the premium website hosting with unlimited email accounts and the ssl certificates keeping everyone safe and building your customers trust.
You can choose to upgrade your services with us and this will cost extra and you can also choose to upgrade your account with our dropshipping partner for a lot more features but these are completely optional.
Refund Policy?
We aren't able to refund domain names as they can't be refunded with the supplier but if we haven't registered it yet we will provide a full refund if you want to cancel for any reason (no questions). If we have registered the domain name you will remain the owner of that domain name for the year and we will refund you £15 within 14 days after purchase.
Can I Cancel My website?
Absolutely, you aren't tied into any contracts with us, if you choose you want to cancel your package you can simply get in touch or cancel it right from your Smughost account and no more payments will be taken.
Thank you for your interest, if you have any questions please get in touch.