ELEMENTOR BUNDLE / Elmentor Pro + 6 other Addons+updates+SEO training,online




BEST WORDPRESS PROVIDER ON 
EBAY!
1 Day Shipping
Satisfaction Guaranteed
Secure Payment
Excellent Service
ELEMENTOR CLUB ONLINE MEMBERSHIP /   ACCESS Elmentor Pro +6 other Addons, updates+ SEO training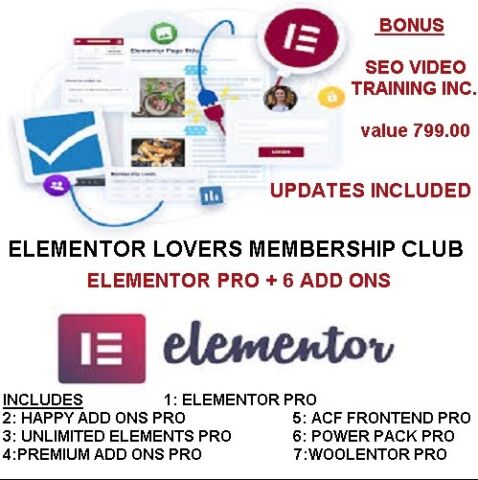 Unlimited Access to 
ELEMENTOR CLUB 
ONLINE MEMBERSHIP
Your LOGINS will be sent within
24 hours to your Ebay Messages
You can then login and download 
1: ELEMENTOR PRO
2: Happy Elementor PRO
3: 
Unlimited Elements PRO
6: 
PowerPack Elements PRO
HOW MANY SITES CAN I USE THE PLUGINS ON?

You may use the plugins on UNLIMITED sites for personal or clients use.

GREAT BUT WHAT ABOUT UPDATES?

WE UPDATE ALL PLUGINS EVERY SUNDAY SO YOU WILL ALWAYS BE UP TO DATE. SImply login and download the latest version.




WHAT ABOUT TEMPLATES?

In the latest version, Elementor developers disabled the pro template features.

You will have all the pro widgets but not be able to use the pro templates. 

Simply use the included Happy Elementor Pro Add On included with your membership.  

This will give you 400+ premium templates and more widgets to use.  




NOTE: Anyone promising you the templates in the latest version is giving you a cracked, nulled plugin and your site will be in danger of being taken down, or worse be full of malaware.  Please do not use cracked/nulled plugins.




AWESOME, WHAT ELSE DO I GET?

Included with your membership is a ten part SEO training course valued at 799.00 !

NOTE VIDEO TRAINING COURSES ARE CHANGED PERIODICALLY, YOU WILL HAVE FREE ACCESS TO ALL FUTURE VIDEO COURSES WE HAVE PLANNED !!
OUR MONTHLY SURPRISE FREE BONUSES!!!
Feedback

Please remember to leave positive feedback for me and I will do the same for you.  
Delivery Information 
The logins to your membership will be sent to your EBAY inbox within 24 hours, usually much sooner (an hour or two). 
Payment 
Payment accepted as per Ebay checkout methods. 
Refunds 
Due to the nature of the product no refund can be offered, however your satisfaction is my top priority. Please contact me and I will consider refunds or other options on an individual basis. 
Feel Free To Contact Me 
Please feel free to contact me with any and all questions.
*** 
Looking for a certain plugin or theme?  I have almost every plugin or theme available for $3.45
S
imply contact me here on EBAY and I will create a listing for your item for you.
All items contained within the directory on EBAY are developed by third party developers and redistributed under the terms of the General Public Licence (GPL). I am fully authorized to resell this plugin.