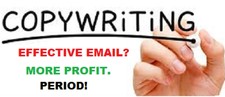 Price: 3000 USD
Email marketing Effective Email Sales Copywrite to Boost CTR – Increase Sales




Just a click away. Unrealized profits – Yours!
Are you an Affiliate, Amazon, Etsy, eBay or Shopify marketeer?

You need sales from your email marketing campaign.
I am here to help you.
Only a great Email copywriter understands the heartbeat of successful marketing strategies.
I will Write Effective 200 words Email copy that translate into Sales for Your Email marketing campaign.
Having a great email that converts Leads is exactly what every business needs.
Smart entrepreneurs make money. They know the value of a great email copy.
With my service – Unleash the full potential of your business.
It's time you realize huge profit from your business.
Yes, you can earn thousands of dollars with just the right words.

Get a sales copy that make potential customers whip out their credit cards.

Do not leave your business to chance.

An effective sales copy. Your answer to huge profits!