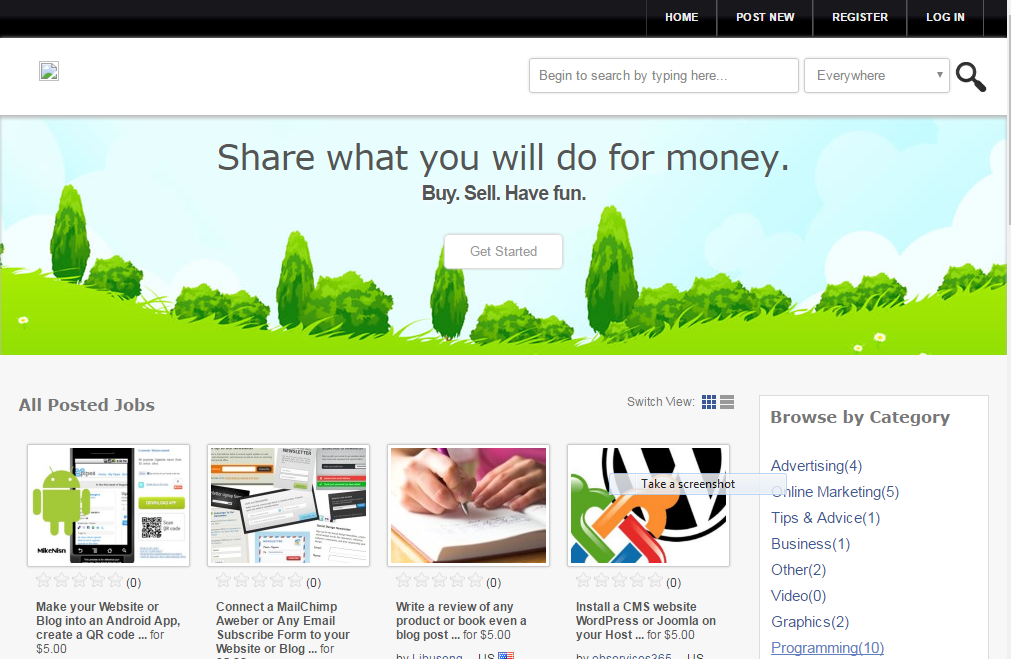 Price: 1399 USD
Make money with Micro Jobs freelancing website Free Installation + Hosting
The best WordPress micro job website and script on the market
Exceptional Micro Jobs website is a Premium WordPress website that
lets you transform your WordPress or blog website into a fixed small 
price task, micro jobs,chores or job website. 
The idea of this website is to let the users to post small jobs that they
can do for a fixed amount of money. For example: "I will do your 
laundry for $10?. The users that look for help can search the 
site and pick their chores based on category and location.
Also thanks to the Sitemile website framework, the Exceptional
Micro Jobs website becomes the best website on the market
for hosting a fixed small price job, and comes at a
lower price than the competition. It is also very
SEO optimized and will index your site
very quickly in search engines,
such as Google, Bing or Yahoo.
Exceptional Micro Jobs website Main features
Task/Job Post: The tasks/micro-jobs are custom post types
assign categories, assign locations, assign tags,
set job price, make them featured. Also the
website has custom pages to display the
jobs by taxonomy (like category and
location). Plus has user personal
profile page, where it shows
all user's posted and
active jobs.
WordPress 3.7 Supported: The Exceptional Micro Jobs website
supports the latest version of WordPress. The website
has been tested in WordPress 3.7 and works flawlessly and each
time WordPress updates, we update the website so it works with the
latest version of WordPress. Also the website works in
previous versions of WordPress starting v3.0.
Plug and Play: Our micro-job website/script is plug
and play and you don't need any extra plugins
or other scripts to run your Exceptional Micro
Jobs based website. Also the installation
process is very simple: you just use
the WordPress  installer, upload
the website archive file and
you are ready. The installation will take even
a novice user less than 5 minutes. Also for those that cannot handle
this, we offer installation services along with your purchase.
Seller has control: The sellers have total control over their jobs.
They can add new job, edit current jobs, repost jobs, suspend
and activate jobs. Also they have a sales management
panel, where they can see current active jobs,
or completed and closed jobs. They can
also track revenues, request withdraw
current cash balance and plus they
have a private messages area
where they communicate
with the buyers.
Email Notifications:
 Your users get notifications on their email, when posting a job, purchasing a job,
completing a job, closing and job, and all the important events of user activity.
Exceptional Micro Jobs website has a very complex admin side from where you
can control the templates for all emails that are sent in your website, so they
can be also translated and modified for any international language.
      SEO friendly and is optimized to display on tablets and smartphones.


Life long Technical Support
we will provide complete website with sub domain
Or else, you can use your own domain
[you can to get your own domain with any domain registrar(ask me if you don't know how)]
Even if you have your own hosting we will do complete set up on your hosting also.
Contact us if you have more questions!
Lifetime 24/7 Support – we will do our best to assist you for business success 🙂
PayPal is our preferred Payment Method because
it is safe and secure.
Payment must be received within
2 days of purchase, however
if this is not possible, please let us know
to discuss further solutions.
Please make sure you reply to all our messages
as soon as possible to help complete
the transaction.