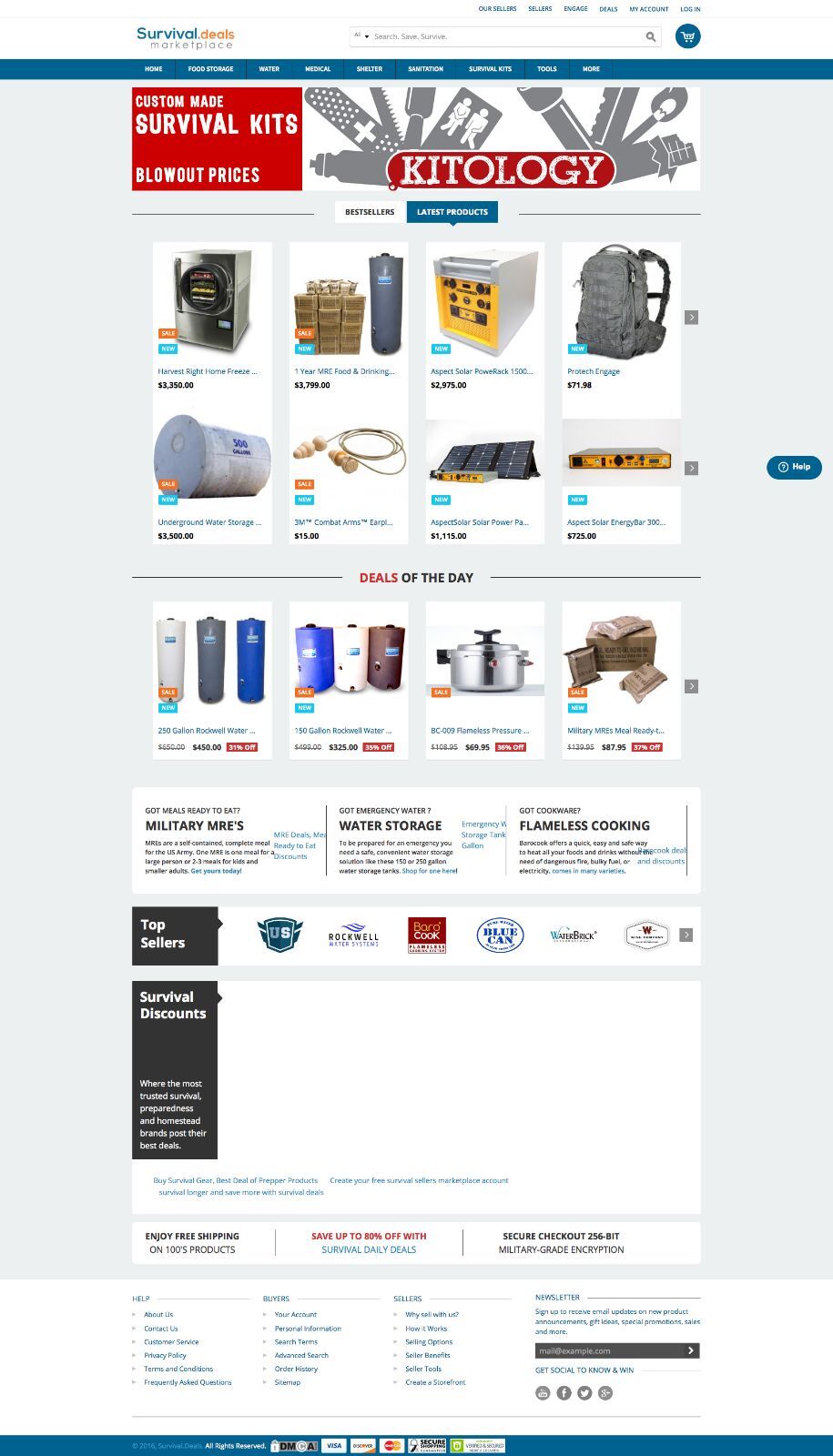 Price: 779900 USD
Online Marketplace Business For Sale Survival Preppers Preparedness website
Marketplace Online E-Commerce Business For Sale – B2C and B2B Survival, Preparedness, Homestead Gear Store website
Up for sale is truly unique opportunity to own, run, and grow an established, functioning and profitable Marketplace Online business. You get all the tools you need to run your own popular and profitable marketplace website. No setup needed, it's running, functioning and selling. If you don't know what a "marketplace website" is please read below, see the link and contact for details. The domain alone is worth the asking price, let alone the fully functioning business and marketplace website and highly ranked SEO. See www.survivalstandard.com for detail and additional opportunities.
Examples of marketplace websites: amazon, ebay, buy, etsy, etc.
This is the hottest new trend for successful entrepreneurs and there is NO business or website like it in this industry; None.
What is included in the sale price?
1. Two domains (see below)
2. Four social media accounts
3. One marketplace website
4. Business directory
5. Email marketing Setup
1. Domains included:
2. Social Media Accounts
You get unique URL's for Facebook, Twitter, Instagram and Pinterest
3. Marketplace website
See the URL's mentioned above to view the website. The website is a fully functioning site that has been in operation for almost a year now. Functional beautifully and smoothly. Fixed costs are roughly $14/month.
4. Business Directory
I'll provide a list of over 3000 businesses and their information to market to. This is huge to reach out and add additional vendors or setup your own drop-shippers.
5. Email marketing
You'll get access to the email marketing list with over 15k emails who have signed up to market and sell for success. This alone is worth the asking price
The sale of these domains and marketplace website allows you to run your own marketplace business. A business where you act as the middleman between consumers and companies. You allow business to create their own storefront, a unique URL on your website which facilitate a transaction and you take a percent of the sale, ebay and amazon take 15%. You don't carry inventory at all. You simply market to companies and consumers then take a percent of the sale. Create your own business, branding and profit in the Survival and/or Preparedness, Prepper community. It's an amazing opportunity.
More about Marketplace websites:
An online marketplace (or online e-commerce marketplace) is a type of e-commerce site where product or service information is provided by multiple third parties, whereas transactions are processed by the marketplace operator. Online marketplaces are the primary type of multichannel ecommerce.
In an online marketplace, consumer transactions are processed by the marketplace operator and then delivered and fulfilled by the participating retailers or wholesalers (often called drop shipping). Other capabilities might include auctioning (forward or reverse), catalogs, ordering, wanted advertisement, trading exchange functionality and capabilities like RFQ, RFI or RFP.
In general, because marketplaces aggregate products from a wide array of providers, selection is usually more wide, availability is higher, and prices are more competitive than in vendor-specific online retail stores.
Since 2014, online marketplaces are abundant since organized marketplaces are sought after. Some have a wide variety of general interest products that cater to almost all the needs of the consumers, however, some are consumer specific and cater to a particular segment only. Not only is the platform for selling online, but the user interface and user experience matters. People tend to log on to online marketplaces that are organized and products are much more accessible to them. Source