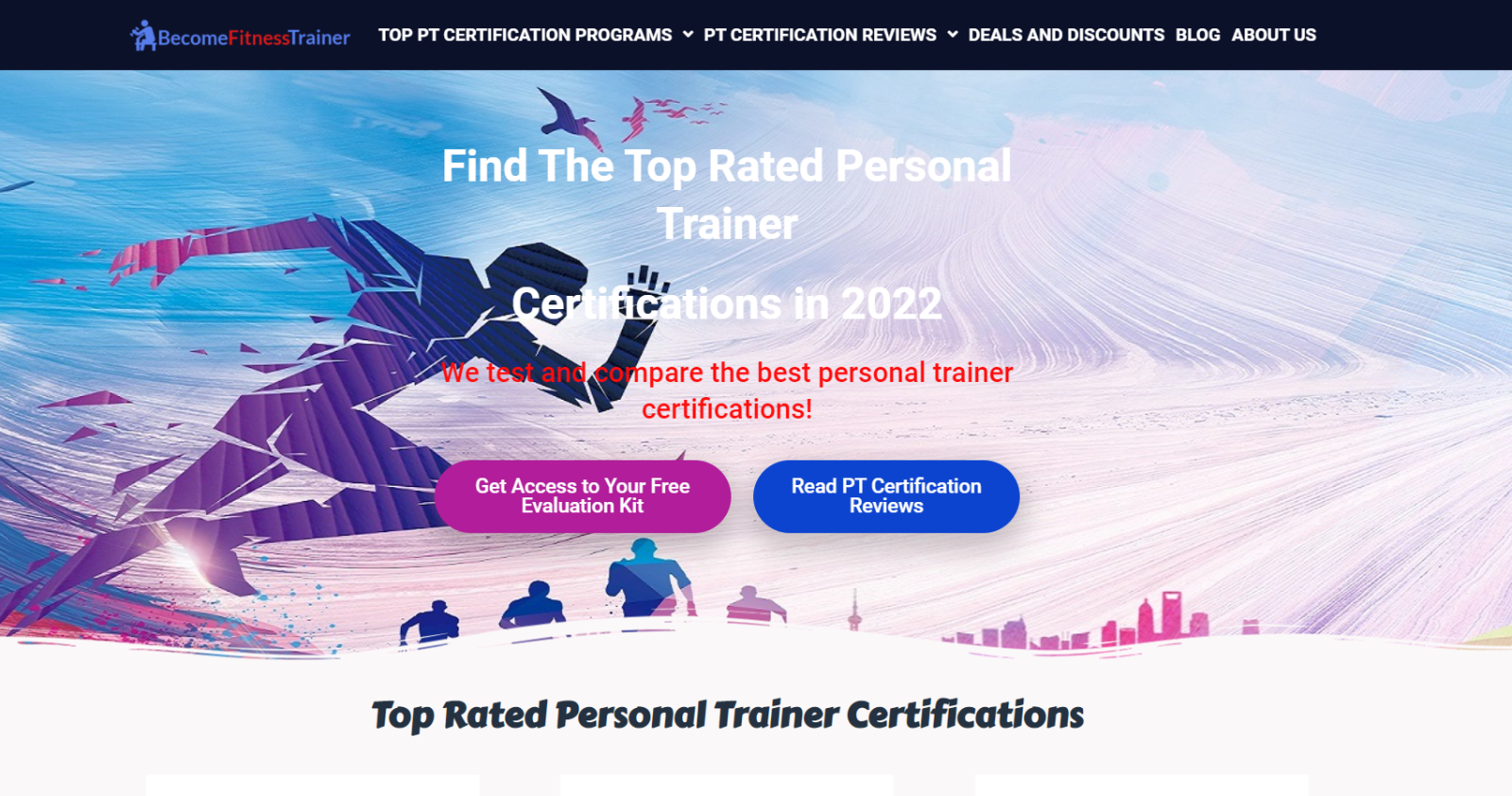 Price: 17500 USD
Personal Trainer Certifications Review Site Potential Earning $1,000-5,000 /pm




BECOMEFITNESSTRAINER.COM | Beautifully Designed Starter WordPress Review Site
Premium Domain name with a GoDaddy estimated
value of $885
COMPLETE Personal Trainer Certification Reviews website to Make
$$$$ from the start.
https://becomefitnesstrainer.com this is what you are
buying 😉
Do you want to have monthly passive income?
Here is a unique opportunity to earn passive money on affiliate commissions
from personal trainer certification sign-ups.
Are you serious about starting an online business? Read this
first!
I offer professional turnkey
websites built to make you money from the start. Equipped
with premium features, filled with top-quality content, fully ready.
How Does the Site Generates Revenue? 
Did you know the base salary for Personal Trainers ranges from
$55,633 to $94,733 with the average base salary of $77,112? It's very lucrative
career.
You can join the ISSA ACE, NASM, NCSF and more affiliate
programs and you earn commissions 8-30% every time you send a new customer that
signup for any of the personal certifications they offer.
For example, someone clicks on affiliate link on the website,
and that person goes on to sign up for let's say to be a certified personal
trainer. The lowest certificate is $600, and it can go up to $2000. They also
do bundles so that means more commissions for you. Most people who want to be
personal trainers always bundle to grow their skills more.
That means with just one customer you will get 60$ on 10%
commission or 90$ with 15% commission.
Let's say someone does bundle and gets 2-3 certifications with a
price of $2000 that's $200 commission for you. Score!
Hypothetical Estimated Earnings on Average $1000:
Selling 1-5 Certifications – $100-$500/month Commissions
Selling 5-10 Certifications – $500-$1000/month Commissions
Selling 10-15 Certifications – $1000-$1500/month Commissions
What You Are Getting…
Premium domain name

 

already paid on 1 year

Site,
which is built on latest version of 

WordPress

,
the world's most popular content management system
Mobile-friendly
website
All
website content and graphics
Site
is totally fulfilled with cool animations
Unique
design based on Web Design Rules 2022
Premium
logo design included (PNG, JPG)
Full
installation and set up
Free
SSL
Site
is SEO optimized
Free transfer
of the domain to your namecheap.com account
Easy
to manage website (no coding skills needed)
Complete,
ready-made website which can earn you up to $1000-5000.
1
Click Customizable website with easy-to-use WordPress Admin Panel
website
optimized for fast loading to give the best customer experience
Every
picture on website is optimized for web
Full
tech support to get you up and running
What is affiliate marketing?
affiliate marketing is a type of
performance-based marketing in which a business rewards one or more affiliates
for each visitor or customer brought by the affiliate's own marketing efforts.
I'm newbie. Can I run this website? 
This business is perfect for beginners!
You
don't need any coding skills
The
site is built on WordPress to make it easy to manage
No
need to replace all affiliate links, just add them once
Yes, this site is built on the latest version of WordPress. It
has very simple Admin Panel. You can change everything you want just in 1
click. Full transfer support is included in this price. No need to be afraid
that you don't know something. 
Can I run this site from my country?
Yes. You can be located anywhere; all you need is a laptop and
the Internet.
How Much Time Should I Spent for This Business? 
The time you spend on this business is entirely up to you. The
site is full ready to start earning commission for you as soon as you add
your own affiliate links, so even if you only spend a few minutes a day on it
you could start making money. On the other hand, if you want to make this to a
full-time business, there is no limit to how far you can scale up your income. You
can write unique articles daily, run different typed of paid ads, make native
ads, arbitrage traffic etc.
What Business Expenses Are There? 
Only Hosting Fee. You can use any hosting you want. The cheapest
from 1.44$/month.
What Can I Do to Develop This Site? 
You
can build brand by creating pages on Facebook, Instagram, etc.
You
can write your own unique articles to get organic traffic from Google
You
can collect people's emails and do Email marketing
You
can send your site URL to your friends to get commissions from their
membership's
====================================================================================
Notes that applies to all my website and services:
– I DON'T provide hosting. To get the website you need to buy
your own hosting. The cheapest is from $1.44.
– You have your own domain? No problem I can install and
optimize website on your domain without any additional charge.
– The Domain is registered at namecheap.com. Buyer will need to
use or create free namecheap.com account to accept domain.
Operations 
You will get a professional online business in
"plug and play" format where everything is done for you
already. It is a one-time investment without spending a fortune, you
can just input your affiliate links in settings and start making money within minutes. No matter is you an
experienced or a complete newbie anyone can run this business
easily right from the home! 
Seller Notes
Still, have questions? Just message me!
What are you waiting for? Buy it now and let's get started 🙂