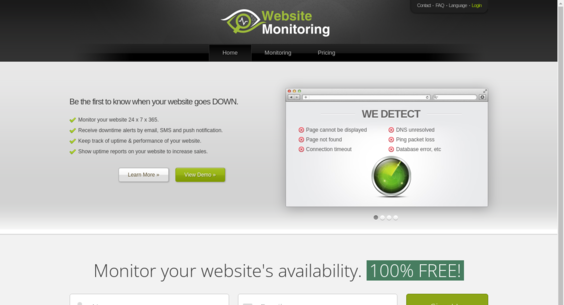 Price: 549500 USD
SAAS website Monitoring Business – Every website Owner Needs This Service
Simple business model that can get you paid month after month consistently in your sleep. High in demand — 2 billion website owners need this or they will loose A LOT of money!
Almost all passive cash flow business model!
The supplier handles ALL the hard work.
Amazing digital property that can provide cash flow for lifetimes
STEP ON INTO THE LUCRATIVE website MONITORING NICHE!
There is over 2+ BILLION websites today and more being launched daily.
Every important website needs a website monitor! The second a website goes down they cannot process orders resulting in a huge loss of revenue. Each hour that goes by the site is down so is the revenue. ANY website owner who makes cash flow from their website can EASILY justify using this service.
HOW THE PASSIVE BUSINESS MODEL WORKS:
The owner gets paid when new users sign up.
The supplier charges a "wholesale" cost and the customer pays a "retail" price. The site owner of websitemonitoring.org collects the profits from the cost difference of wholesale and retail. Which currently is setup to be almost double. Example it costs $5 wholesale it would sell retail for $10.
Retail plan pricing can be easily adjusted by the owner in a few clicks to increase or decrease profit margins.
The amazing thing about this property is the digital products being sold pay out each month. Providing nice cash flow monthly! This helps predict future income.
All digital products are fulfilled by a supplier automatically! Owner collects profits & does not have to fulfill or provide a service.
Easy to run and manage store that is already built for you to takeover. The current owner lets the website run on 100% autopilot with no time being spent on marketing or promoting. 
TOP BENEFITS OF THIS PROPERTY:
Priced to sell at below appraised price
Gorgeous easy to use turnkey website
Easy to remember brand name
Exact match domain for highly searched term 'website monitoring'
Over 20+ customers rely on our service with more signing up regularly
Passive business model where the supplier handles all the grunt work
Can be ran from ANYWHERE in the world
So far… Over 20+ clients rely on our service to monitor their websites with our free plan. Any of those clients could easily turn into paid clients at any time.
NO email marketing has been done yet to any of the current clients.