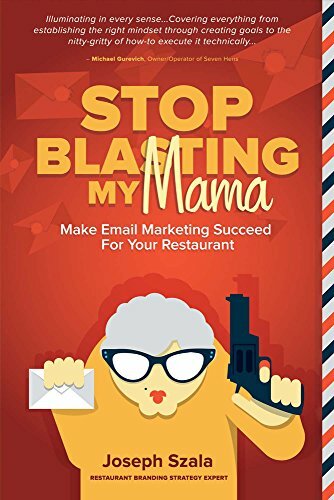 Price: 1538 USD
Stop Blasting My Mama: Make Email marketing Succeed for Your Restaurant
By

Szala, Joseph

Condtion: New

Binding: Paperback

Publisher: Vigor

Publication Date: 2015-08-27

Notes: Paperback. An Unused, unmarked and unblemished copy.
Welcome to Redux Books!
Questions about this item?
If you have any questions about this item, please use the link titled "Ask Seller a Question" under the heading "Meet the seller" and we will be sure to answer your question within 1 business day.
Payment
Payment for all eBay orders must be completed through eBay payments.
Shipping
We ship our books throughout the world. In certain cases, we may not offer expedited shipping or shipping outside of the U.S.
Free Standard Shipping within the contiguous U.S.
Most orders are processed within 1 business days of order receipt.
Allow 2-7 business days for delivery after your order has shipped.
Shipping times are estimated and are not guaranteed by Redux Books.
Why isn't there a picture included in the listing?
When available our listings are populated with stock pictures provided by Ebay. There are times when Ebay does not have a picture of the item in the listing in which case you may request an actual picture if you contact us. We will work on getting a photo within 1 business day.
Please note: Some of the pictures added by Ebay do not depict the same cover of the item in our listing. We do not have control over this, so it is always better to ask first!
Condition Guidelines
New: An unused and unread book that is in perfect condition
Like New: A book that approaches the condition of New, but without being crisp. Remainder mark may be present, but otheriwse there are no marking. Any defect will be noted in the accompanying description.
Very Good: A book that does show some small signs of wear, but without tears. Minor marking may be present. Any defects will be noted in accompanying description.
Good: A book that falls under average used book. All pages are present. Pages may contain marking. Any defects are noted in accompanying description. Could be Ex-library (bought from a library sale, this will be noted)
Fair/Acceptable: A Worn book that has complete text pages but may lack endpapers, half-title, etc. (will be noted). Binding, jacket (if any), etc., may also be worn. This is our lowest condition grade and as we try our best to describe any defects, it is possible for an 'acceptable' book to have other defects than mentioned.
Please note: These conditions are guidelines only and the condition of the item above may actually differ from the description of these categories. These differences will be noted in the item notes above.
100% Customer Satisfaction Guaranteed
We want to ensure your satisfaction. If you are dissatisfied with your purchase or shopping experience, we would like to hear from you. Please contact us using eBay Messaging. Please be sure to include your contact information and order number. Please note: Business hours are Monday-Friday. We try our best to respond to all questions and comments within one business day.
Lost or Damaged Shipments
If your order was damaged during shipping or if you did not receive your order, contact us and we will be happy to take care of the issue.
Please wait until the end of the delivery time estimate before contacting us about missing shipments.
Please contact us using eBay Messaging and be sure to include your contact information and order number.
Your Privacy
Redux Books does not sell or market customer information to other businesses or organizations.
Customer Comments
We are constantly striving to improve our service and would love to hear your comments. Please contact us using eBay Messaging.
Returns
Redux Books accepts returns within 30 days of order receipt.
Return Process
Please contact us using eBay Messaging before returning your order.
Returns without prior authorization will not be refunded.
Return Requirements
Returned merchandise must be in the same condition in which it was received.
No return credit will be given if an item is in used condition, has been installed, or has missing or damaged retail packaging.
Please adequately package return shipments. No credit will be given if item is damaged in return shipment.
Thank You For Your Business!